What is Tray Framing?
Tray framing offers a glassless, contemporary framing solution that achieves a 3d, 'floating' effect for your images or artwork.
Your images are firstly mounted to Dibond – a lightweight aluminium composite known for its rigidity – which adds protection to the print and provides a firm base for framing. A smaller sub-frame is then attached to the reverse of the mounted print, providing space between the back of the frame and the print. The artwork is set back slightly from the edge of the frame to prevent damage and there is space left on all sides of the mounted print within the frame to achieve the 'floating' effect.
Aside from aesthetics, there are other considerations surrounding your finished piece – such as its environmental impact. All of the mouldings we use for our frames are from sustainable sources that are managed to meet environmental, social and economic needs for both the present and future, as certified by the FSC scheme.
Appropriate fixings are then attached to the back of the tray frame so that your work is ready to hang. Of course, not only can our skilled team provide advice on hanging systems – but we can also offer delivery and installation services too.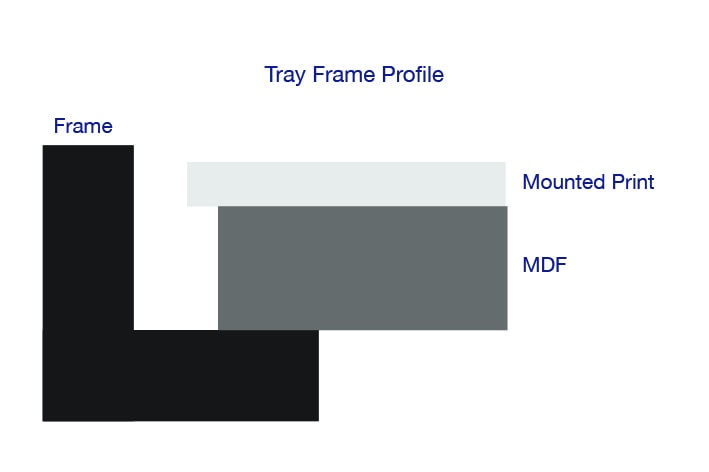 Why Should I Choose Tray Frames?
Without glass, tray frames are more lightweight than traditional framing options and reflections on artwork are minimised – allowing your work to be seen in all of its glory.
Our range of exhibition quality mouldings makes any of our framing options flexible and adaptable to your requirements.
Packaging and Transporting Your Framed Photographic Works
One of the biggest challenges with finished works is transportation, which is often difficult due to fragility of the piece, its size and weight. For international travel, or transportation using select couriers, we would recommend crating works where possible – providing utmost security. Crates, which can be custom built to accommodate the exact dimensions of your piece, do cost an additional outlay but can provide a cost-effective solution in the longer term when compared against the costs and time associated with getting finished pieces re-made. We also advise, where possible, using experienced art-handlers or installers to ensure your work is transported in the safest way and the risk of damage is kept to a minimum. Not only do we provide advice on transportation from years of experience in this field, but we can also create bespoke crates and delivery and installation services too – just ask us!