LED Panels vs Traditional Fluorescent Tubing
We offer exhibition-quality, bespoke lightbox framing to compliment our ultra-slimline, lightweight fine art lightboxes.
We use only the highest quality LED panels to illuminate all of our lightboxes – this not only gives us greater flexibility in the size we can produce, but also means that our lightboxes are evenly-lit from edge to edge.
The change from fluorescent tubing to LED panels also allows us to produce extremely slimline lightboxes to bespoke specifications. LED lighting also emits far less heat than traditional lightboxes which used fluorescent tubing, which not only required additional depth to prevent overheating, but has also been linked to the deterioration of images.
For even illumination, the LED light is dispersed through a diffusing layer of translucent Perspex.
The first step for producing lightboxes is printing your images, our Duratrans are produced using the digital c-type process – rendering images durable and archival on a translucent base that is suitable for lightboxes.
Appropriate fixings are then attached to the back of the lightbox so that your work is ready to hang. Of course, not only can our skilled team provide advice on hanging systems – but we can also offer delivery and installation services too.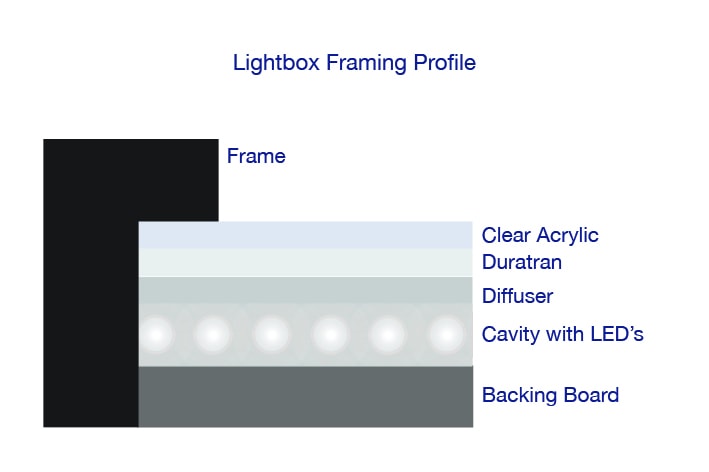 Why Should I Choose Bespoke Lightbox Framing?
Our bespoke lightboxes are then produced in-house by our framing department using your choice of mouldings and to your exact specifications. We stock a multitude  of gallery quality exhibition mouldings which are available for our lightbox framing service.